Acer to launch 3D notebook at the end of October, new netbook for 3Q10
Yen-Shyang Hwang, Taipei; Joseph Tsai, DIGITIMES [Monday 8 June 2009]

Acer plans to launch a 15.6-inch 3D notebook, which the company jointly developed with Wistron, at the end of October 2009, according to Campbell Kan, vice president of Acer's mobile computing business unit.
The notebook features built-in software which can convert regular 2D movies to 3D, and will also directly support 3D movies.
Currently, users still need to wear stereoscopic glasses for the 3D to be effective, however, Acer is developing a model without the need for glasses, although it still has quiet a few technological obstacles to overcome, Kan noted.
The notebook will come equipped with Windows 7 and therefore Acer will not make an official announcement until Microsoft launches the OS, Kan added.
In addition to Windows and Android models, Acer is also working on its third-generation netbook, which will feature a similar concept as MIDs or smartbooks with strong network connectivity and convenience, and it targeting a launch in the second of third quarter of 2010, Kan noted.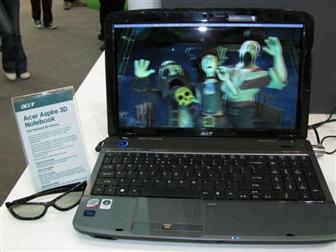 Acer 3D notebook
Photo: Yen-Shyang Hwang, Digitimes, June 2009
Related stories:



Acer Android netbooks will still ship with Windows, reveals chairman (Jun 5)



Computex 2009: Acer unveils ultra-thin business notebook (Jun 4)